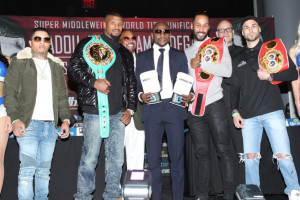 Boxing has taken its share of hits in the past couple of decades, falling in the public eye among all sports and in particular behind mixed martial arts, whose fortunes have risen, seemingly in inverse proportion to those of the "sweet science."
But all is not lost for the sport which once commanded prime interest in the U.S. alongside baseball and even worldwide with soccer. With companies like Golden Boy Promotions and DiBella Entertainment still beating the drum, TV deals are still out there for boxing.
Case in point: the most recent big announcement by Golden Boy, a multi-year agreement with ESPN for a series of bouts live on ESPN2 and ESPN Deportes, beginning with a card on March 23 in the Coachella Valley, California.
"We are excited to announce this new agreement with Golden Boy Promotions, one of the world's top promoters," Burke Magnus, executive vice president, programming and scheduling at ESPN, said in a statement. "ESPN and ESPN Deportes look forward to featuring a new series of exciting world-class matches, along with a deep and wide variety of studio and digital content, in this multi-year, exclusive live-fight package."
Year one has 18 cards on the schedule in both English and Spanish in the U.S. and on affiliated networks in several of its international markets.
DiBella continues to promote fight nights on Showtime, with the recent January 14 card headlined by James DeGale's super middleweight majority draw with Badou Jack keeping the sport fresh on one of boxing's most important outlets.
And while MMA has grabbed much of the young market and its digital eyeballs—and with that a growing set of mainstream sponsors, boxing hasn't yet been counted out, as long as big media companies like Disney (ESPN) and CBS (Showtime) are still in the mix.