The crisp gold and red hue of the surrounding tree foliage. 
That distinct smell the air takes on, with the coming cold-front arriving. 
It's hockey season, baby, and it couldn't come at a better time. 
With a new hockey season comes new hope. A new hope that the boys will finally be able to conquer that final hump to get to the promised land. 
There will be pain, and there will be heart-ache along the way; it will all be worth it in the end.
If you've followed the National Hockey League for more than 20 years, you'll realize this coming season has the New York Islanders in an unfamiliar position. A position of expectation. They're no longer the unknown entity that's giving the big boys fits to play against. They're a team with expectations of reaching the ultimate goal. 
A common theme is heard radiating throughout the off-season workout and the incoming preseason. 

"I don't think we have accomplished what we wanted to so far. Our goal is to win the Stanley Cup," said Casey Cizikas right after signing his six-year contract extension at a franchise friendly $2.5-million average annual value (AAV).
"I'm going to die an Islander."
If that doesn't get the franchise fanbase to want to run through a brick-wall, I don't know what will.
Isles Captain, Anders Lee, has officially been given the green-light, as all systems go for his surgically repaired knee. A welcome addition to a team that was one-goal away from competing for the most prized trophy in sports. For a team that's recently established a trademark for needing goals on the wing, that addition of 20-plus goals should certainly ease some concern with the departure of Jordan Eberle.
The blow of losing Eberle was also softened in the off-season with the re-signing of Kyle Palmieri. The Smithtown, Long Island native was proven to be indispensable in this past season's playoff push – where he posted seven goals and two assists in 19 games. His 10 blocked shots and 34-hits showed his bull-dog type gameplay fit in brilliantly with Barry Trotz' stingy, defensive system. It only made sense to keep the 30-year old veteran around for the long haul.
The additions of veterans Zach Parise and Zdeno Chara have been covered by Islanders media ad-nauseam, so I'll spare you the positives and negatives regarding the signings. Yes, they're older, and yes they're both coming off of down seasons.
If you're having your doubts on how the grizzled vets could possibly be of any value, try to understand the situation the current team is in when you see those signings in particular. You're going to hear how "the Islanders need to get younger"…
This team is currently built to win NOW. If you're 30-years old and over, THIS is what you've been waiting for.
Everything being done with players and personnel for the next 2-3 years, is to bring that elusive Cup to Long Island – NOW.
With that being said, a guy like Chara is extremely valuable to have around the locker room, specifically for the younger crop. In the short time Chara got to spend with Charlie McAvoy, look at the leaps and bounds he took. Now, transfer that knowledge and leadership both on and off the ice to a kid like Noah Dobson.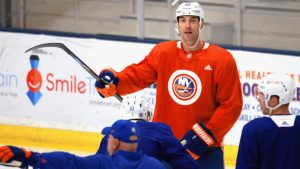 Big Z has seen it all.  No, he's not going to give you 20-minutes a game – I mean, he's 44 competing at the highest level. He might not even give you 60-games, who knows!? But just to have guys like him; guys like Johnny Boychuk;  always around and talking to them, teaching them to be a true NHL professional… man… you just can't under-sell that value – ESPECIALLY for a young defenseman in the NHL.
The never-ending battle to keep this group healthy and competitive throughout the upcoming season is not going to start easy. The team has a 13-game road trip to kick things off due to delays with the completion of their new home in Belmont. Thankfully, it won't literally be 13 games away from home, as they have the opportunity to sleep in their own beds for some of the trip with them playing at the Rock in New Jersey on the 11th of November.
The pieces are there. Those "next steps" have been taken over the past two-seasons.
It's time to take that giant leap.
It's time for that Lord Stanley to come home to where the dynasty was established.
LFG
Danny C. Brasqo
Follow Danny on twitter – @brasqo