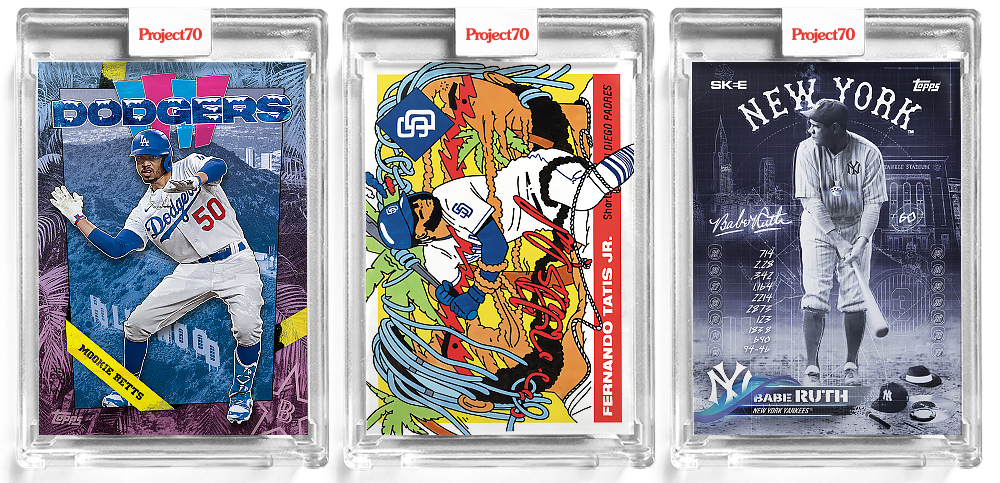 On the heels of its overwhelmingly successful Project 2020, Topps today unveiled the first cards in Project70, a new series which celebrates the 70th anniversary of the first Topps baseball set in a comprehensive program featuring 51 premier artists and designers from around the world each creating 20 cards of their own player and card year design choice. The set commemorates both the initial year of 1951 and the 70 years that it has produced baseball cards, with three new issues daily, each available for 70 hours. Similar to its Topps NOW and Project 2020 products, Topps will print only the number of each card ordered in that time frame.
The set features premium, thick trading cards encased in a protective plastic case, as well as several premium offerings. Each day's new pieces are available at http://www.topps.com/project70.
The creators selected to participate comprise a diverse group that includes the likes of rap musician Snoop Dogg, graffiti artist Futura, pop artist Ron English, jeweler Ben Baller, painter Greg 'Craola' Simkins, comic and album artist Alex Pardee, sneaker artist The Shoe Surgeon, designer Sophia Chang and many more. Nineteen of the 20 artists from Project 2020, including Baller, Chang, Gregory Siff, Fucci, Mister Cartoon and others return for Project70.
In contrast to Project 2020, in which artists were assigned specific player cards to interpret, Project70 allows each creator to choose any player and card design from the last seven decades.
"Project70 is one of our most ambitious sets ever, celebrating 70 years of Topps baseball cards in a contemporary way," said Jeff Heckman, Global Director of Ecommerce. "Giving these creators the freedom to select the players and designs they want to interpret as they see fit means we will have very different cards from these uniquely and diversely talented individuals.
"We can't wait to see what their fertile minds will produce, and we know that collectors and baseball fans share that anticipation," Heckman added.
In addition to the base units, Topps is randomly inserting a limited number of rainbow foil parallel cards, numbered to 70, plus a foil numbered 1/1 Gold Frame for each card, into print runs. Collectors who purchase all 20 cards from an artist will also receive a gold-stamped bonus print featuring all 20 Project70 cards from that artist.
The artists contributing to Project70 include:
Action Bronson, musician, New York
Alex Pardee, comics/apparel, Los Angeles
*Andrew Thiele, art/design, New York
*Ben Baller, jeweler, Los Angeles
*Blake Jamieson, pop art/portraits, New York
Blue the Great, painting, Los Angeles
Bobby Hundreds, illustrator/writer/photographer, Los Angeles
Brittney Palmer, model/artist, Los Angeles
CES, graffiti, Bronx, New York
Chinatown Market, streetwear, Los Angeles
Chuck Styles, fine art, Philadelphia
Claw Money, public art, New York
Distortedd, illustrations, Philadelphia
DJ Skee, artist/TV host, Los Angeles
*Don C, streetwear, Chicago
*Efdot, murals, New York
*Ermsy, cartoons, UK and Paris
*Fucci, pop painting, Montreal and Toronto
FUTURA, graffiti, New York
Greg "Craola" Simkins, surrealism, Los Angeles
*Gregory Siff, painting, Brooklyn and Los Angeles
Infinite Archives, contemporary art, fashion
*Jacob Rochester, pop art, Los Angeles
Jeff Staple, graphic and fashion designer, New York
*JK5, tattoo, Brooklyn
Jonas Never, murals, Los Angeles
*Joshua Vides, stencils, Los Angeles
*Keith Shore, creative design, Philadelphia
*King Saladeen, murals, Philadelphia
Lauren Taylor, mixed media, Vancouver
Matt McCormick, multimedia, Los Angeles
*Matt Taylor, poster design, U.K.
Mikael B, graffiti, impressions, Copenhagen
Mimsbandz, wristband art, Los Angeles
*Mister Cartoon, tattoos, Los Angeles
Morning Breath, graphics, apparel, San Francisco, New York
*Naturel, murals, Washington D.C.
New York Nico, filmmaker, New York
*Oldmanalan, streetwear, Sacramento
POSE, pop artist, Chicago
Quiccs, toy design, Manila
Risk, sculpture, graffiti, Los Angeles
Ron English, pop art, filmmaker, Jersey City, N.J.
Sean Wotherspoon, streetwear, Richmond, Va.
The Shoe Surgeon, streetwear, Los Angeles
Snoop Dogg, rap musician, Los Angeles
SoleFly, streetwear, Miami
*Sophia Chang, design, New York
Toy Tokyo, pop art/toys, New York
*Tyson Beck, logo art, Adelaide, Australia
UNDEFEATED
*also participated in Project 2020