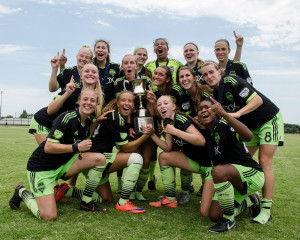 The Women's Premier Soccer League announced mycujoo as its official streaming partner for the next three years. The agreement includes the exclusive digital rights for the second league in the US women's soccer pyramid.
This partnership, in conjunction with already established partnerships with other leagues in the USA makes mycujoo the largest streaming platform for amateur soccer in the country. In 2019, more than 1,500 live matches are expected to be streamed on the soccer-specific global platform.
"This is a major signing for us, the WPSL is the largest women's club competition in the world with more than 100 teams engaged. mycujoo is quickly becoming the go-to platform for US amateur soccer teams, players and fans" said Pedro Presa, CEO and co-founder of mycujoo. "At the same time, we are strengthening our position as a leader for live women's soccer content. Less than a year before the Women's World Cup in France, this is highly important for us as brands are more and more looking to get associated with the women's game."
Women's soccer is on the rise both globally and in the USA – with a 37% increase in girl's club soccer participation in the last 20 years across the country.
"We are absolutely thrilled to be partnering with mycujoo to offer our teams the gold standard in live streaming" stated Sean Jones, President of the WPSL. "Through the use of mycujoo's incredible platform, our teams and our league will be able to showcase the phenomenal level of talent and passion of the players in the WPSL to a worldwide audience of women's soccer fans."