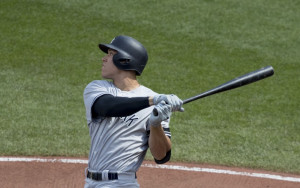 SiriusXM will again provide the most comprehensive national audio coverage available for the 2018 Major League Baseball season, offering subscribers access to live play-by-play of every regular season and postseason game, as well as 24/7 news, talk and analysis on the exclusive MLB Network Radio channel.
MLB programming on SiriusXM, including live game broadcasts and the MLB Network Radio channel, are available to subscribers nationwide on SiriusXM radios, and those with streaming access can listen online, on-the-go with the SiriusXM mobile app and at home on a wide variety of connected devices, including smart TVs, Amazon Alexa devices, Apple TV, PlayStation, Roku, Sonos speakers and more.
Through SiriusXM's digital agreement with MLB, the SiriusXM app offers a suite of 30 play-by-play channels dedicated to streaming the official radio broadcasts of every MLB team, giving fans access to both the home and visiting team broadcasts for every game.
MLB's 2018 Opening Day is Thursday, March 29, when all 30 teams will be in action. For a schedule of all games and their SiriusXM channels visit www.SiriusXM.com/MLBschedule.
Listeners also get the most in-depth coverage and analysis of the league 365 days a year with MLB Network Radio (XM channel 89, Sirius channel 209). The channel's roster of expert hosts includes former GMs Jim Bowden, Jim Duquette, Steve Phillips, former players Matt Diaz, Cliff Floyd, Danny Graves, Jensen Lewis, Brad Lidge, CJ Nitkowski, Eduardo Perez, Rico Petrocelli, Ryan Spilborghs, Steve Sax and Mike Stanton, former manager Kevin Kennedy, national baseball writers Mel Antonen, Tyler Kepner, Scott Miller and Jon Paul Morosi, as well as Casey Stern, Mike Ferrin, Jeff Joyce, Jim Memolo, Scott Braun, Dan Graca, Grant Paulsen, Sam Ryan, Jody McDonald and Greg Amsinger.
Seven-time All-Star and former World Series Champion Matt Holliday joins MLB Network Radio as a host this season. Holliday joins SiriusXM after 14 years in the majors with the Rockies, Athletics, Cardinals and Yankees, a career in which he became a World Series Champion in 2011 with the Cardinals, and won the National League batting title and NLCS MVP in 2007 with the Rockies.
Miami Marlins pitcher Brad Ziegler will be a special guest host on the channel alongside Casey Stern on Inside Pitchtoday from 3:00 – 6:00 pm ET.
The channel's exclusive lineup includes Front Office, the award-winning weekly show hosted by former GMs Jim Bowden and Jim Duquette (Sundays at 10 am ET), and Loud Outs hosted by Ryan Spilborghs and CJ Nitkowski, two former players with a unique perspective on the pro game based on their experience playing in both Japan and MLB (Saturdays at 10 am ET).
On April 5, MLB Network Radio will broadcast live from Nationals Park before the Washington Nationals host the New York Mets. Former general manager Jim Duquette and Casey Stern will host live from the ballpark starting at 10:00 am ET.
Throughout the season, listeners will hear regular one-on-one interviews with several managers including: Jeff Banister(Rangers), Bud Black (Rockies), Kevin Cash (Rays), Alex Cora (Red Sox), Craig Counsell (Brewers), Terry Francona (Indians), Ron Gardenhire (Tigers), Andy Green (Padres), AJ Hinch (Astros), Torey Lovullo (Diamondbacks), Don Mattingly (Marlins), Bob Melvin (Athletics), Bryan Price (Reds), Scott Servais (Mariners) and Ned Yost (Royals).
MLB Network Radio also features a simulcast of Christopher "Mad Dog" Russo's MLB Network show, High Heat with Christopher Russo, every weekday afternoon at 1:00 pm ET as well as simulcasts of additional MLB Network television programming, including the flagship studio show MLB Tonight on weeknights at 6:00 pm ET.