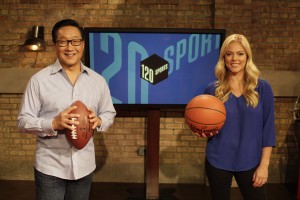 Today, 120 Sports, the OTT network, announced
Michael Kim
and
Alexa Datt
as its leading talent team for the newly relocated 'Morning Run,' the live-produced, national sports show that combines game highlight video, live guests and social interaction in a quick and easy format. Kim and Datt will co-host the daily show from
8-11 a.m. (EST)
from its new location at the Major League Baseball Advanced Media studios in Manhattan's Chelsea Market.
Kim, who is an original 120 Sports host dating back to its launch in June 2014, moves with The Morning Run from Chicago to New York. Prior to his move to 120 Sports, Kim spent more than 17 years at ESPN.  In addition to his duties as an anchor on Sportscenter, the network's flagship news show, Kim was one of the lead anchors on ESPNews and Sportscenter on ESPN America.
"This move is the best of both worlds for me," said Kim. "I'm really going to miss Chicago.  It's a beautiful city with wonderful people.  Fortunately, I remain in the 120 Sports family and I'll be back in Chicago from time to time.  Also, the move allows me to spend more time at home with my family."
The newest addition to 120 Sports is Alexa Datt, a rising star in sports reporting. Datt serves as the full time in-stadium host at Citi Field for the Mets as well as the Mets preseason sideline reporter for SportsNet NY. Datt has worked as a sideline reporter across many sports for the past seven years and has guest hosted for Bleacher Report and appeared on the Players Tribune radio show on Sirius XM. Most recently, Datt started the widely popular "Datt's What She Said" podcast, a mix of sports talk, comedy and exclusive interviews that has featured such stars as Mike Tyson, Oscar De La Hoya, Katie Nolan, Jim Lampley and Victor Cruz.
"By taking the electric personality we see in Datt's podcast along with her natural ability for hosting native digital sports content and pairing it with Kim's wealth of experience on the national sports stage, The Morning Run will continue to offer sports fans everything they are looking for in a national morning show," said 120 Sports Executive Producer, Joe Riley.
Expanding the production footprint of 120 Sports to include New York will allow deeper integration with 120 Sports partners, leading to greater access to different voices and experts to discuss the timeliest topics in the world of sports and entertainment in real-time. Kim and Datt will be joined by diverse special guests and reoccurring contributors on a daily basis.
"I am thrilled to join the 120 Sports family, and co-host The Morning Run with Michael Kim, an amazing sports broadcasting veteran," said Datt. "I am excited about the unique format of the show which incorporates traditional and new media platforms for what is sure to be an amazing, integral sports experience for our viewers."
The remainder of 120's daily programming lineup will continue to be produced out of Chicago and conclude each evening at 2:00 a.m. (ET).