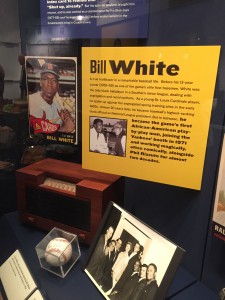 Howard Cosell may have railed against "jockocracy" — former athletes in the broadcast booth — in his later years (after having once been a great facilitator in that area). Despite his pronouncement, retired players have provided analysis and in some cases play-by-play since the early days of sports media.
Now the Yogi Berra Museum & Learning Center in Little Falls, N.J., chronicles the history of ex-players behind the mic in the new exhibit, "Now Doing the Talking: from Athletes to Broadcasters," which opened Wednesday. The exhibit, which takes up the back area in the museum, includes two main displays with highlights of 10 prominent former players from Waite Hoyt to Bob Uecker, a video display chronicling each of their careers and a "broadcast booth" where kids (and maybe some adults) can make calls of famous plays in history.
In addition to Hall of Famers Hoyt and Uecker, displays feature Dizzy Dean, Joe Garagiola, Phil Rizzuto, Jerry Coleman, Tony Kubek, Bill White, Tim McCarver and Ralph Kiner.
There are even nods to today's current Yankees and Mets broadcasting teams, made up primarily of ex-stars, and to the development of football broadcasting.
The interactive exhibit will run through March 18, 2016.